Yvette Bozsik Company | Company Fren_Ák
Clown Wanted | Twins
19:00 | National Theatre of Pécs - Chamber Theatre
Tickets
Ist part: Yvette Bozsik Company: Clown Wanted
- length: 60 minutes in one part -
The performance of the Yvette Bozsik Company that is intended for adults was commissioned by the National Dance Theatre and it is based on the grotesque drama of the world-famous Romanian-French writer Matei Visniec. Two aged, long-neglected clowns arrive for a job interview. Filippo is the louder character, Niccolo is the gentle clown. In the pursuit of success, the bleak waiting room becomes a battlefield first, then an imaginary stage and finally a crime scene. The piece is a great opportunity for the Yvette Bozsik Company to create a grotesque, sad clown performance with its already iconic stylistic marks, starting from a prose piece, taking the form of a dance theatre and combining new impetus and energies, in which we commemorate love and the moments of passing by holding a mirror to ourselves and to the world. The dance theatre performance, which is based on Visniec's piece, is staged with dancers Tamás Vati and Yvette Bozsik, with the music written by Philippe Heritier and with the costumes made by Kriszta Berzsenyi, and the dance artists of the Yvette Bozsik Company also appear at an absurd clown banquet. In the play, humour and drama mix with circus elements, clown performance and commedia dell'arte motifs, coloured with acrobatic and lazzi elements. The final result is an absurd transition between humour, drama, theatre, circus and dance.
Performed by: Bozsik Yvette and Vati Tamás,
and Kalmár Attila, Zambrzycki Ádám, Bujdosó Anna, Darabont Áron, Gombai Szabolcs, Hasznos Dóra, Hortobágyi Brigitta, Samantha Kettle, Krizsán Dániel
Music: Philippe Heritier
Lighting: József Pető
Space: Tamás Vati
Costume: Krisztina Berzsenyi
Creative Producer: Marcell Iványi
Directed and choreographed by: Yvette Bozsik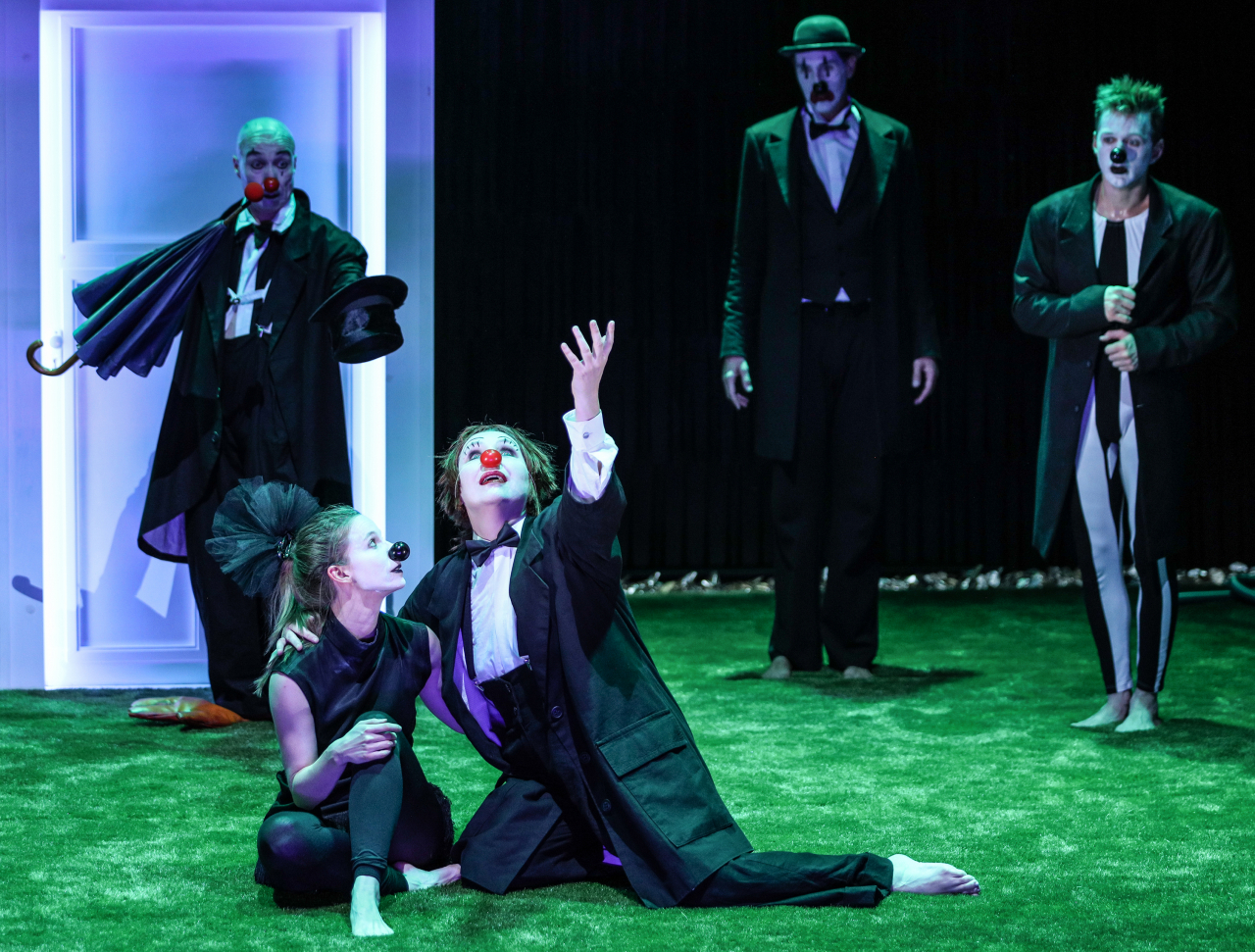 Photo: Horváth Judit
---
2nd part: Company Fren_Ák: Twins
- length: 40 minutes in one part -
Twins talks about the deeper layers of twin life through the language of dance. Two dancers, two masked figures, sometimes as twin dummies and sometimes twin brothers, seek the states of unity, togetherness, separation, being alone and loneliness. The performance does not attempt to analyse or decipher, but rather to consider the range of symptoms and possibilities. The two dancers circulate like twin stars in the almost barren space, while in their inseparable relationship they do not survive the twins' paradox: even though being identical, the great journey after birth is asynchronous for them; they have to find the unity of their personality. The creator is not looking for final solutions. Rather, he is interested in the process itself, facing the insoluble.
Dancers: Erika Vasas, Milan Maurer
Puppetry: David Fekete
Music Editor: Attila Gergely
Rope access technology, staging: Gyorgy Zoltai
Light: Janos Marton
Sound: Attila Hajas

Concept, Choreography & Scenography: FrenAk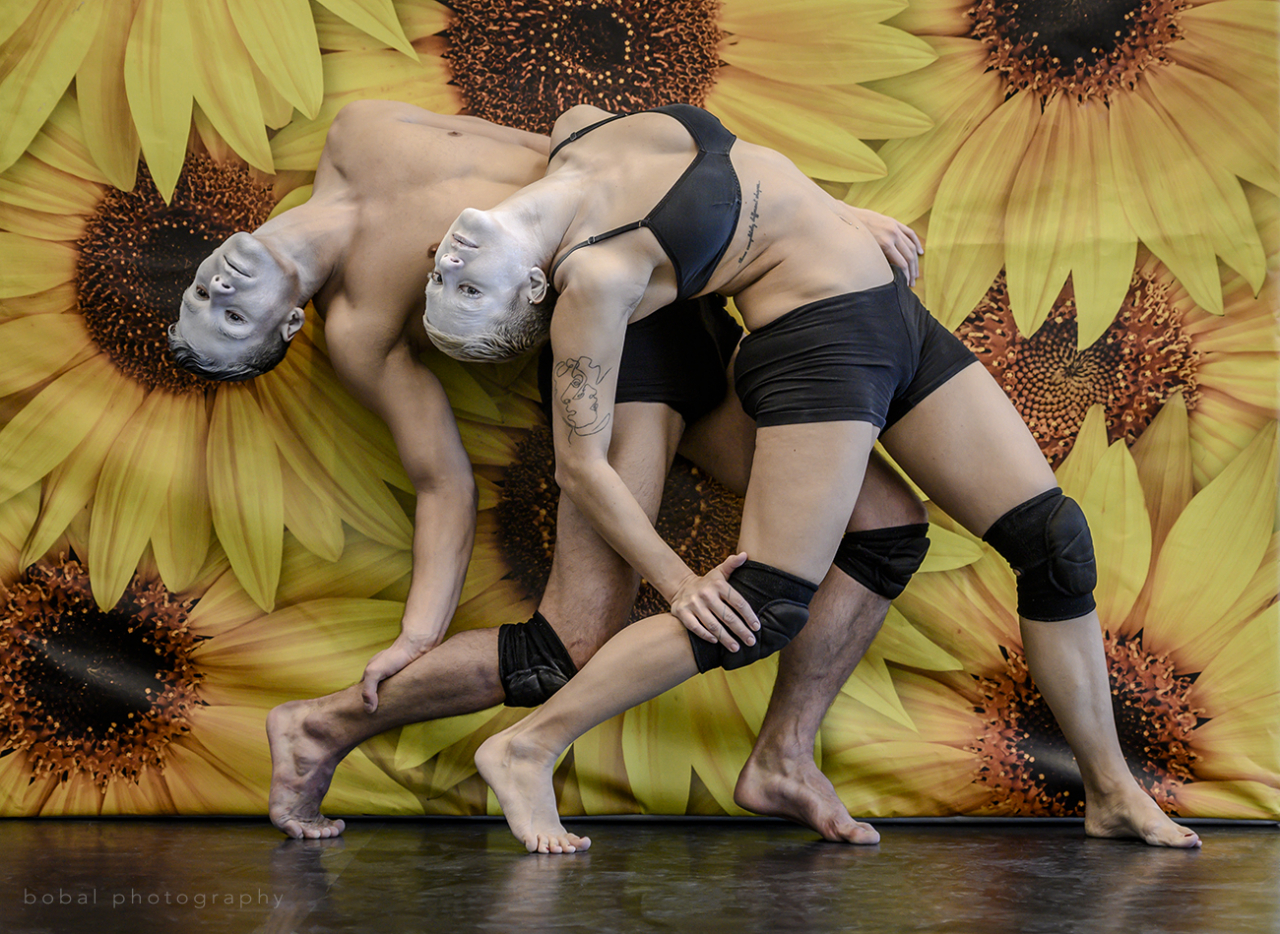 Photo: Bobál Katalin